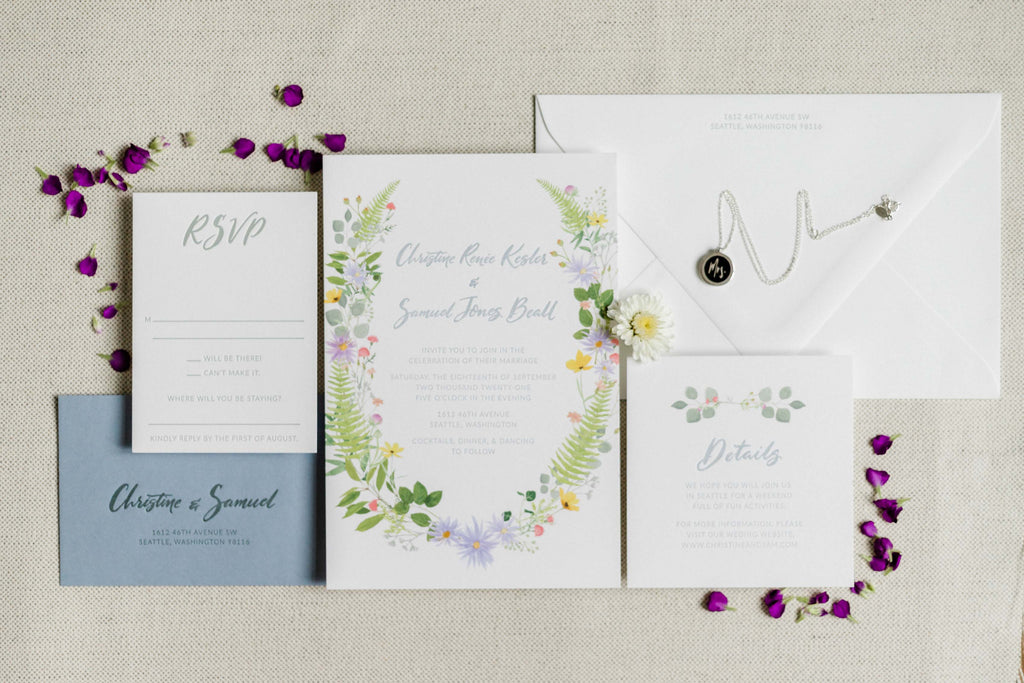 One of the highlights of 2020 was partnering with Victoria Della Torre of Etiquette Design Company to produce a line of Semi-Custom Luxury Wedding Invitation Suites. Though I have partnered with stationers before to produce one-of-a-kind wedding invitation suites, this was a different kind of project. Victoria and I set out to collaborate from start to finish on these three beautiful suites, intentionally creating designs that would appeal to our discerning couples - brides and grooms who know that the wedding invitation is the first opportunity to set the tone for the type of wedding your guests can expect. 
Each of these collections features our beautiful artwork and corresponding custom calligraphy expertly crafted by Etiquette Design Co. using luxury materials and artful printing techniques. 
Another highlight of last year was working with Samantha Levine, the Creative Directory and President of
Auburn Jewelry,
and her husband Brendan on their custom ketubah. Over the course of our time working together, I discovered  Samantha's line of handcrafted 
custom sterling silver and enamel pendant jewelry. 

As a recent bride and business owners who regularly work with brides, Samantha, Victoria, and I know that planning a wedding during a pandemic is very stressful. The three of us decided to make the process a little easier and a lot more fun by running an Instagram giveaway! We are offering one lucky bride-to-be complimentary design services for one of the recently released invitations suites including our custom spot calligraphy, 50 custom designed letterpress thank you notes, and an Auburn Jewelry Mrs. charm necklace. This package has a total value of $1500.
Today through Friday, February 5 at 7pm, we welcome you to participate in the giveway by following @etiquettedesign, @tallulah_ketubahs, and @auburnjewelry on Instagram and tagging any friends that might be interested. A winner we be selected at random on Friday at 8pm. Good luck and we can't wait to meet the lucky bride we'll be working with!