Introducing Guest Artist Claire Luce Baldwin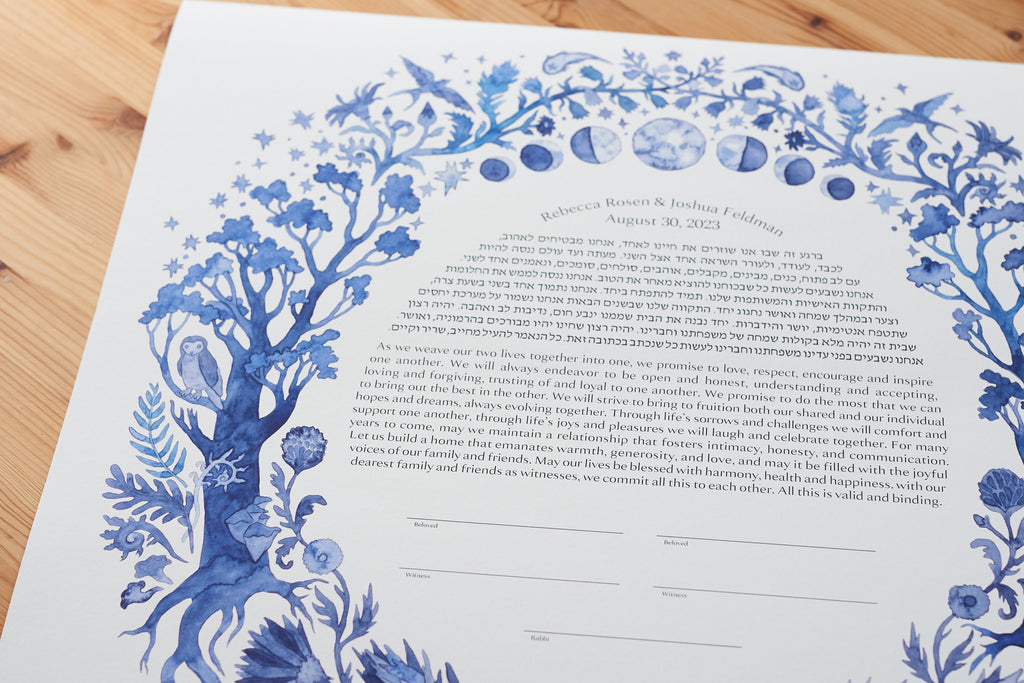 Tallulah Ketubahs is thrilled to announce our newest guest artist, Claire Luce Baldwin. Claire is an emerging illustrator whose work explores magic, self-actualization, and the surreal beauty of nature. She creates colorful, detailed illustrations with watercolor, gouache, and ink, inspired by the wild landscapes she's explored while working as a park ranger and environmental educator in the American West.
This spring, Claire has partnered with Tallulah Ketubahs to launch a brand new print ketubah called Indigo Celestial Wreath. This enchanting ketubah is a delightful blend of earthly and celestial wonders, bringing to life a magical garden filled with fluttering butterflies, lively grasshoppers, wise owls, and graceful swallows. This vibrant tableau of nature's creatures is entwined within a celestial canopy that dazzles with twinkling stars and the ever-changing phases of the moon.
This ketubah design also includes symmetrical Trees of Life, deeply rooted in the earth and reaching for the heavens, symbolizing the two families coming together; the roots represent the ancestors, while the branches depict the couple's journey together. This relationship, set beneath the stars, captures the essence of their union as they embark on their sacred journey together.
Claire's artistic journey began when she enrolled in the Tyler School of Art as an undergraduate, where she completed two years of study before shifting her focus to Maternal and Child Health. However, it was during her time working in national parks and serving as an environmental educator that she received her most formative arts education.
In 2018, Claire was selected to create the official centennial poster series for Grand Canyon National Park, a significant achievement that cemented her status as an emerging illustrator to watch. Her experiences in Glacier National Park, North Cascades National Park, and the California Redwoods, and as a park ranger in Grand Canyon National Park deeply influenced her artistic style. Her connection to nature and love for the outdoors is evident in her artwork, which often features stunning depictions of flora and fauna. 
Currently, Claire is working on a variety of projects that showcase her incredible artistic abilities. Her artwork incorporates color wheels of natural specimens, which is a unique and fascinating way to explore the colors found in nature. Some of Claire's recent clients include the Maine Audubon Society and Maine Ocean Farms, where she has used her talents to create illustrations that promote environmental conservation and sustainability.
"I love creating art for weddings - it's incredible knowing that what I paint will be treasured for a couple's lifetime. I married my partner of 10 years in 2022, and in addition to designing our wedding invitations and thank you cards, made a vintage-style paper moon photo backdrop. I'll always treasure the photos of our guests posing on the crescent moon."
Claire is thrilled to be able to share her artistic talents with upcoming brides and grooms by providing them with a unique ketubah infused with naturalistic elements. Her love for the natural world and her ability to bring personalized and whimsical touches to each project is what sets her apart. Tallulah Ketubahs' partnership ketubah with Claire Luce Baldwin is not only a beautiful addition to a couple's wedding day but also a cherished piece of art that will be treasured for a lifetime. With her exceptional talent and dedication to her craft, Claire's ketubah design is the perfect choice for couples who want to make their wedding day truly unforgettable.
For more information about Claire's work, please visit: