Behind-the-Scenes Sneak Peek: Discover the Sketches Behind our Custom Ketubahs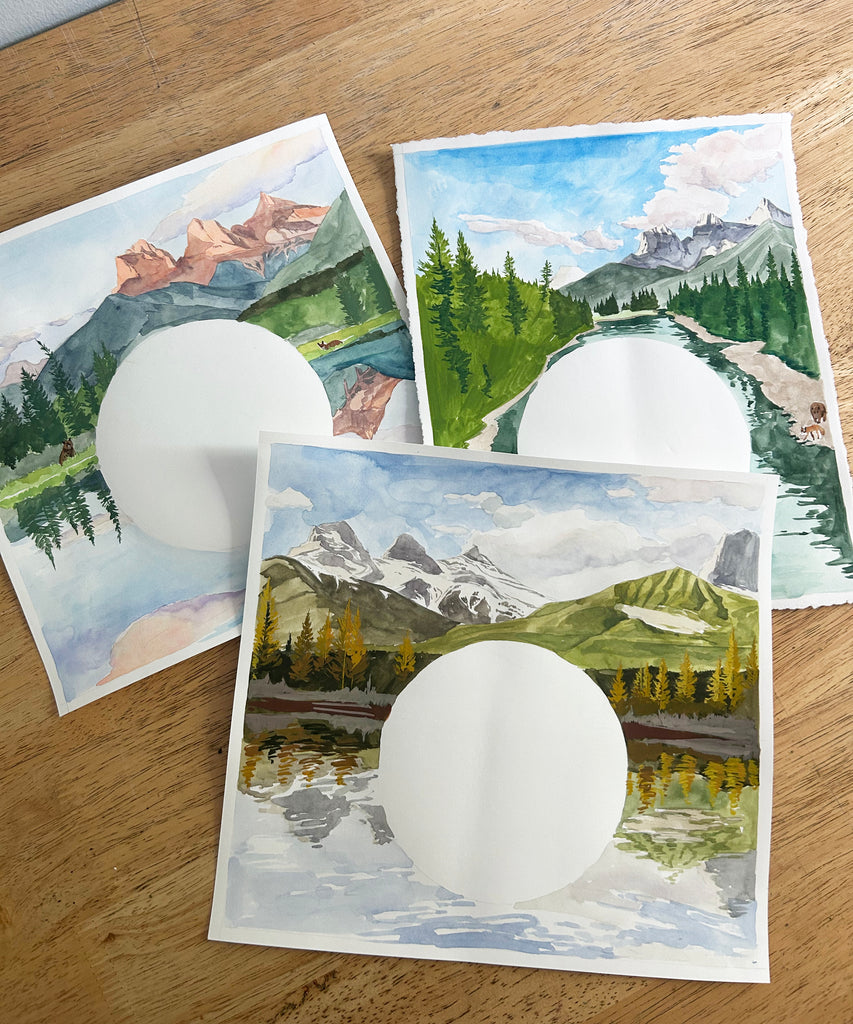 The 2023 wedding season is in full swing these days, and we couldn't be more thrilled to share a glimpse into our studio and the heartfelt artistry that goes into each of our hand-painted custom ketubahs. Our well developed and thoughtful process of infusing every custom ketubah with meaningful details, ensures that each of our couples receives a one-of-a-kind work of art for their special day.
In our studio, we carefully craft three unique sketches, personalized to perfection for each couple, embarking on a collaborative journey, blending their preferences and ideas to shape an artwork that resonates deeply with their love story. Our commitment is to ensure that each ketubah is nothing short of perfect for our couples' big day.
Landscape-Inspired Ketubahs
This season, we are fortunate to be working with nature lovers, and the beauty of trees, mountains, and rivers takes center stage in many of our current projects.
One couple, drawing inspiration from our diverse portfolio, envisioned a ketubah that captured the grandeur of Mount Rainier. Picture this: the majestic mountain towering in the background, its reflection shimmering in a crystal-clear alpine lake. The scene is adorned with abundant wildflowers and rugged rocks, creating a lush colorful foreground.
In another landscape-inspired design, a delightful couple shared their engagement memories from a picturesque botanical garden and their unforgettable journey to Yellowstone National Park. These two distinct locations have become a wellspring of inspiration for their design.
Witness the fusion of these extraordinary places as we create sketches that beautifully intertwine their love story with the enchanting landscapes. Lovely lupine flowers grace the foreground, their petals vibrant and their hues symbolizing the essence of blossoming love. Soft blues and greens, reminiscent of Yellowstone's serene atmosphere, infuse the sketches with tranquility and the soothing embrace of nature's harmony.
Within each of these sketches, you'll notice intriguing white circles or open spaces – these serve as placeholders, eagerly awaiting the chosen ketubah text that will complete this traditional document.
Floral-Inspired Ketubahs
Tallulah Ketubahs has gained recognition for our exquisite floral custom ketubah designs. Couples yearn to immortalize the essence of their unique love stories and the captivating beauty of their wedding arrangements or bouquets through these cherished works of art.
Recently, a pair of Philadelphia based lovebirds embarked on their custom ketubah journey with a clear vision in mind – to incorporate the ethereal beauty of their wedding bouquet and arrangements into their design. The initial sketches present three distinct compositional approaches, each capturing a unique interpretation. Imagine the soft whites and verdant greens, the distinctive thistle, delicate daisies, and opulent hydrangeas from their wedding arrangements, immortalized in a design that will serve as a beautiful reminder of their joyful summer celebration.
Collaborating with our couples fuels our passion for crafting these personalized works of art, capturing the very essence of their unique love stories and helping them celebrate their special day.
Follow us on Instagram to witness the evolution of these sketches and see the final pieces that emerge from our creative process. If these sketches have sparked your interest and you'd like to embark on your own custom ketubah or wedding certificate journey, we invite you to reach out to us by filling out our Contact Us form. Our dedicated team is eager to connect with you and begin the journey of creating a meaningful and beautiful piece of art that reflects your love story.
Given that each custom commission is bespoke and made to order specifically for the couple, we take on only a handful each year. As of this time, Tallulah Ketubahs is accepting custom commissions for 2024 and beyond.