Tallulah Ketubahs Custom Commissioning - The Process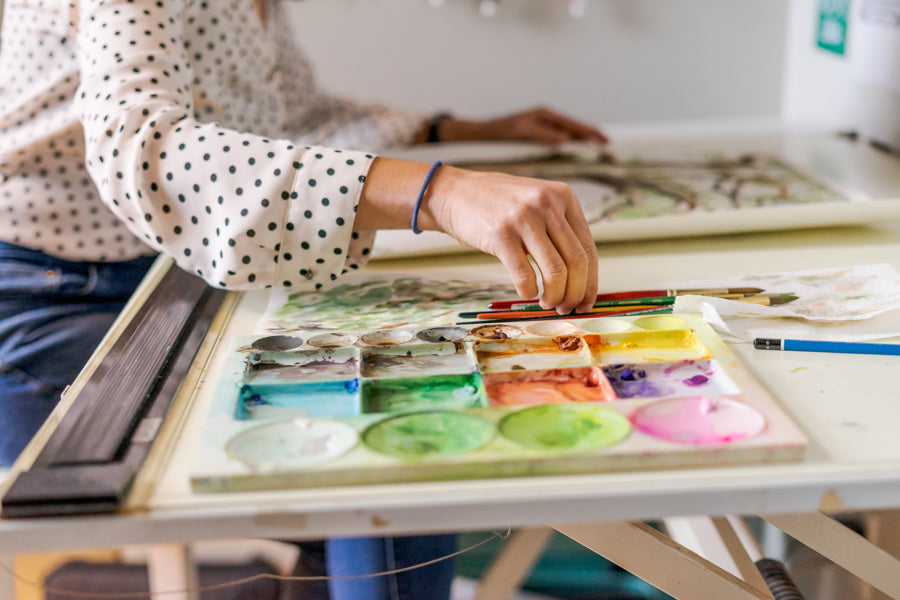 Since our launch in 2014, Tallulah Ketubahs has been a premier provider of beautifully crafted, hand-painted ketubahs and wedding certificates. Offering both custom commissions and high-quality digital prints of original hand-painted designs, our work is a labor of love. Our ketubah creations connect our couples to a beautiful and meaningful Jewish tradition, and serve as a reflection of each couples' commitment to one another as well as a visual representation of their unique love story.
Custom commissions have always been our preferred way of working. After many years and dozens of custom ketubahs created, we've outlined a formal process that makes the experience of collaborating with us on your dream ketubah or wedding certificate efficient, clear, and most of all enjoyable.
The Initial Consultation
Upon your initial inquiry through our Contact Us page, a free formal phone consultation call will be arranged between the couple (both parties present) and our founder, Rachel. This introductory call is designed to help us get to know you - your values as a couple, your wedding style, aesthetic, and which elements of your relationship you want to capture in your custom ketubah. Common topics covered during this call include the couple's love story, their goals and aspirations, and any unique elements or special moments in their relationship. Stylistic elements could include, but are not limited too, botanicals, folk art designs or ornamentation, religious symbols, special moments or memories, and landscapes that hold sentimental value. 
It's important to note that this initial consultation is a collaborative process for both parties, where we focus on how to bring your vision to life through art. Whether or not you already have some ideas or a specific vision in mind, all couples are welcomed to work with Tallulah Ketubahs and this initial consultation helps us better understand how to move forward. 
Couples should anticipate between 30-60 minutes for this consultation and are responsible for a $500 deposit if they decide to move forward. 
Photographic References 
After the initial consultation, the next step in our process is sending photographic references of elements you want to be incorporated into your custom ketubah. In addition to these references, a timeline will be created for the project that outlines sketch due dates that are contingent upon sending your photos and providing timely feedback in-between sketch rounds. 
Julia and Dan's reference images of their family's lake in the Catskills
Once we have received the photographic reference, we will create three full color watercolor sketches showcasing layout options, rough design work, and a good visual of what the custom ketubah can look like.
Julia and Dan's three initial sketches
Feedback must be given within 1-2 weeks of receiving the initial sketches. In addition, the couple will be asked to complete a customization form for the ketubah text at this time. 
Sketches and Proofing
Upon receiving feedback on the three initial sketches and the completed customization form, there is a concrete understanding of which design elements and layout a couple prefers for their commissioned ketubah. At this point, a second more detailed design sketch and text proof will be created. This proof can be reviewed with the couple's Rabbi or Officiant to make sure that the text is correct, and up to two additional rounds of edits to the artwork can be conducted to ensure the couple is 100% satisfied with their ketubah. 
During this stage, we encourage all couples to thoroughly review all spelling, personalized information, and formatting before sending their final approval. Once approved, no further changes can be made.
Julia and Dan's approved proof and final ketubah
Sean and Berkeley's three initial sketches and final paper cut ketubah with hand lettered text
Orli and Brett's three initial sketches and final ketubah with hand lettered text
Samantha and Brandon's approved proof and final ketubah. Click here to view their beautiful backyard wedding on Smashing The Glass
---
The final stage puts our timeline between 3-4 months for completion of a commissioned ketubah, from the initial call to delivery. All ketubahs are delivered flat so there is no need to unroll and try to flatten your ketubah before the wedding. They are also wrapped in crystal clear mylar, and an archival in pen for signing is included so you have everything you need to sign and display your ketubah.
We love working with our couples on their custom ketubahs and we think they love it too! This is what Julia had to say about her experience, "Working with Rachel was a dream come true! She was able to take what we were visualizing in our head as a dream ketubah and bring it to life! The entire process was collaborative and delightful. I couldn't recommend working with her enough!" 
If you enjoyed reading about our process and want to move forward with your custom ketubah or wedding certificate, we encourage you to fill out our Contact Us form and someone from our team will be in touch shortly. Given that each custom commission is bespoke and made to order specifically for the couple, we take on only a handful each year. As of this time, Tallulah Ketubahs is accepting custom commissions for late Summer and Fall weddings for 2022.