Holiday Gifting with Tallulah Ketubahs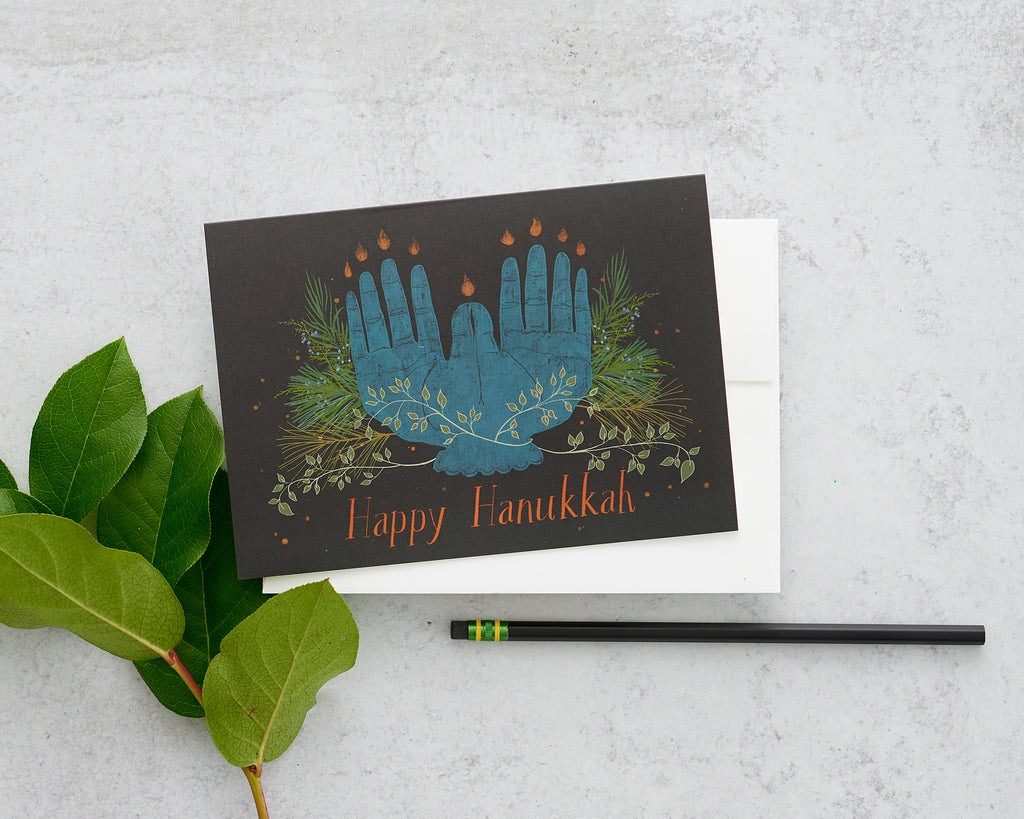 Celebrating the nights of Hanukkah is a precious time that can be highlighted with the perfect present. With Tallulah Ketubahs, shop our most loved products that make the perfect sentimental gift for anyone in your family or friend circle. Whether you want to splurge or go the budget route, there's something perfect for everyone.
Here are helpful gift ideas to ease your holiday shopping this year, all while supporting a small business.
Holiday Cards
Spread holiday cheer with beautifully designed watercolor and calligraphy greeting cards. A handwritten card is a gift and keepsake one can hold onto for many years. They reflect holiday memories with family and traditions that are passed down from generation to generation. Instead of skipping the card this year, think about a personal note, an inside joke, or even a holiday pun that could enhance your gift and bring a big smile to someone's face.  
Tallulah Ketubahs offers a series of greeting cards shoppers can choose from. Designs come in a variety of styles that include Judaica-inspired artwork and folk-art style illustrations like floral patterns, doves, and modern menorahs, in addition to a variety of versatile holiday cards that can be used for any occasion. Our greeting cards come in boxed sets of eight, and are locally printed on white Mohawk Fine Paper with radiant white cotton envelopes. 25% of all proceeds will benefit Alight (formerly the American Refugee Committee). Tallulah Ketubahs Greeting Cards can be purchased here.  
Commissioned Artwork - Pet and Home Portraits
Celebrate all of life's precious moments with Tallulah Ketubahs' custom commissioned artwork. From pet portraits and home portraits to custom illustrations for marking any memorable event, we can help you bring your vision to life in a striking watercolor design. As Hanukkah approaches, think of authentic and thoughtful gifts to give your loved ones. Something as small and simple as pet portraits hold sentimental value far beyond traditional holiday gifts. 
Please allow a minimum of four weeks for the completion and delivery of custom hand-painted artwork. We can turn your photograph into a beautiful and unique memento that will bring your loved one joy every time they see it. For artwork that is readily available in two weeks or less, check out our print designs here. The best way to start a commissioned piece is to contact us on our website with this form. 
Calligraphy Workshops and Private Lessons
Do you have a crafty or creative friend or family member in your life? Tickets to a Calligraphy Workshop or Private Calligraphy Lessons can make thoughtful and memorable experiential gifts. Workshop and Private Lesson attendees will receive everything they need to get started on the meditative art of pointed pen calligraphy including nibs and ink, exemplars, and guide sheets. Check out our list of upcoming workshop dates here. 
All workshops take place in Tallulah Ketubahs' beautiful light filled studio in East Falls Philadelphia. Groups for each event are capped at 8 people total and proof of vaccination is required to comply with COVID-19 safety. Calligraphy events are a great opportunity to treat a friend or loved one (and yourself) to a fun afternoon of learning to letter! Registrants can save $10 on each ticket when they purchase 2 or more, and tickets remain available up to two days prior to an event. 
Gift Cards
Not sure where to start? We have you covered with gift cards that are redeemable all year round. Gift cards make the perfect gifts for upcoming 2022 brides, anniversaries, and any upcoming milestones that can be marked with custom artwork. Pair a gift card with one of our holiday greeting cards, and share your intentions of utilizing our services to create the perfect custom piece. 
Our gift cards can be used towards ketubahs or wedding certificates, custom artwork like pet portraits or house portraits, greeting cards, or any one of our calligraphy events. Purchase your gift cards here. 
We hope this blog has helped ease your holiday shopping. Experiential gifts are always a crowd favorite and give your loved ones the ability to experience unique and memorable events. We're personally biased towards our original hand-painted home and pet portraits, and we think they make for the perfect customized gift! Regardless of which you choose, we hope you continue to support local small businesses this year and spread holiday cheer. 
Happy Hanukkah, Merry Christmas, and Happy New Year!