Kellie & Max - Classic Autumn Wedding at HollyHedge Estate in Bucks County, PA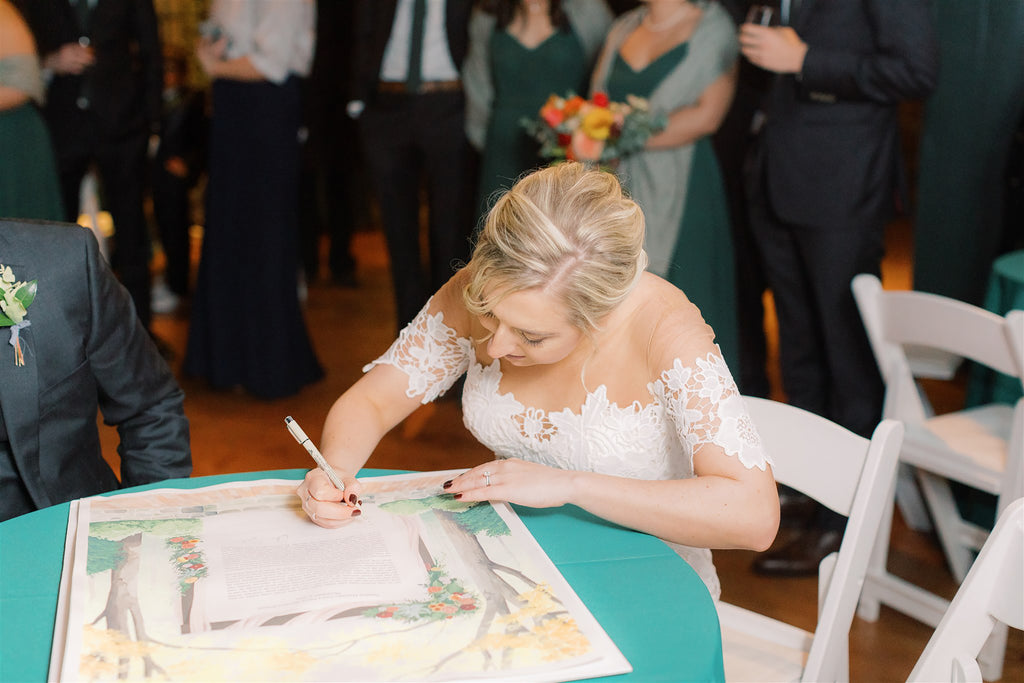 Intimate and charming are just a few words that describe Kellie & Max's rustic autumn wedding in New Hope, Pennsylvania. This beautiful wedding at HollyHedge Estate gave the couple the picture-perfect fall wedding they dreamed of, with lush autumn flowers and emerald green bridesmaid's dresses bringing gorgeous color to the day.
Both locals to Bucks County, Pennsylvania, it was important to the bride and groom to have a wedding near their first home. The rustic elegance and natural beauty of HollyHedge's 18th Century farm and estate offered them the idyllic countryside backdrop they'd envisioned.
Kellie connected with Tallulah Ketubahs on Etsy, while searching for watercolor ketubahs for their wedding. Kellie was thrilled to find a vendor who shared her love for watercolor design, and one who was also a local Pennsylvania artist. Their ketubah artwork featured the historic ceremony site at HollyHedge, nestled in a grove of maple trees in full autumn color. Their interfaith text was framed by a floral chuppah, inspired by the stunning chuppah created for their wedding day by florists, Faye & Renee. 
What made their ketubah even more memorable was having Max's grandfather (their last living grandparent) there to sign as a witness. His signature on their ketubah will be remembered and cherished indefinitely, commemorating the joy he felt on their wedding day and how he welcomed Kellie into his family from the first time he met her.
"The ceremony was by far my absolute favorite part of the day and everything about it was special to us. We wrote personal vows to each other that we have written in books; all of our family was a part of it –  my sister was my maid of honor, so she was up there next to me the whole time, Max's nephew was our ring bearer, and his sister Jess was sweet enough to read a poem we had picked out during the ceremony. It meant the world to us to have all of them as a part of it and I don't think there is one single thing about our ceremony I would change."
Their ketubah wasn't the only personal touch added to their wedding. Every guest received a custom-designed escort wedding pennant based on their favorite college sports team, making for great conversation and guest mingling. Special olive oil was brought from the couple's favorite restaurants in New Jersey, which became each guest's party favor. A few other special details included custom illustrations of memorable places in their guest book, and family input when it came to deciding their wedding music. Kellie, her mom, and her sister share a love for music and they had a blast creating the perfect wedding playlist.
Thank you, Kellie & Max, for sharing your beautiful wedding photos with us! We hope your ketubah remains a special heirloom that will always remind you of your love and commitment to each other, and the joyous day that began your life together as husband and wife.