Introducing Guest Artist Annie Howe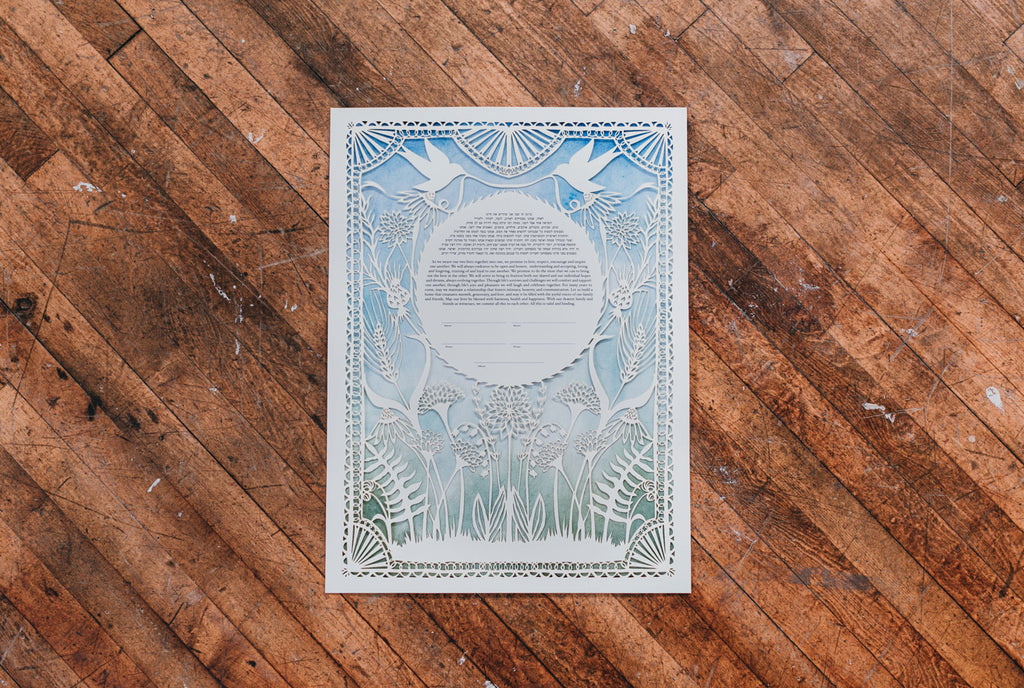 We are so pleased to introduce Tallulah Ketubahs' Guest Artist for 2018, Annie Howe, the owner and artist behind Annie Howe Papercuts located in Baltimore, Maryland. She has designed the whimsical Love Birds in The Garden papercut ketubah exclusively for Tallulah Ketubahs.
Annie is a graduate of the Maryland Institute College of Art. She founded Annie Howe Papercuts in 2010, where she creates handmade papercuts for businesses, publications, and private collections. Her illustrations are easily recognized in many branding and publishing initiatives. In 2018, two greeting card designs using her papercuts have been nominated for the Louie Awards, the highest honor in the Greeting Card Industry.
Guest Artist Annie Howe; photo by Mckenzie Elizabeth Ditter
Annie begins each design with a simple sketch which is transferred onto the back of white 70 lb acid-free drawing paper. From there, she painstakingly cuts away any symmetrical details of the design, then meticulously works at cutting away smaller and smaller pieces of the papercut, until all elements are revealed. What emerges is a beautiful, illustrative papercut, infused with the touch of the artist's hand.
⠀⠀⠀⠀⠀⠀⠀⠀photo by Mckenzie Elizabeth Ditter
photo by Mckenzie Elizabeth Ditter
This summer, she will be traveling to Key West for a month-long artist residency at the Studios of Key West. She has previously been an artist in residence at Penland School of Crafts in Spruce Pine, North Carolina. Her original work has been published in The Cottage Journal, Baltimore Bride Magazine, The Baltimore City Paper, and as the cover artwork and spot illustrations for Pulitzer Prize-winning Author Rick Bragg's collection of essays published by Oxmoor House Publishing.
photo by Mckenzie Elizabeth Ditter
photo by Mckenzie Elizabeth Ditter
photo by Mckenzie Elizabeth Ditter
About working with Tallulah Ketubahs, Annie said, "I have long been amazed by the history and the beauty Ketubahs. I am thrilled I am able to make one especially since there is a strong connection between papercuts and Ketubahs. As with every piece I make I try to infuse the piece with love and care. I hope that the time and detail I put into the artwork inspires couples to care for and love each other for many years. I am honored that my artwork will be part of such an important part of a couple's life."
The Love Birds in the Garden design was originally hand cut by Annie and is available for purchase as a lasercut on Arches 100% cotton rag natural white paper with an archivally printed text of your choice. This design is available in a short run limited edition of 30, with a selection of background color options.
You can follow Annie on Instagram and see more of her work at Annie Howe Papercuts. All product photography by Carina Romano of Love Me Do Photography.