Becca & Cooper - Interfaith Wedding at Camp Chi in Lake Delton, Wisconsin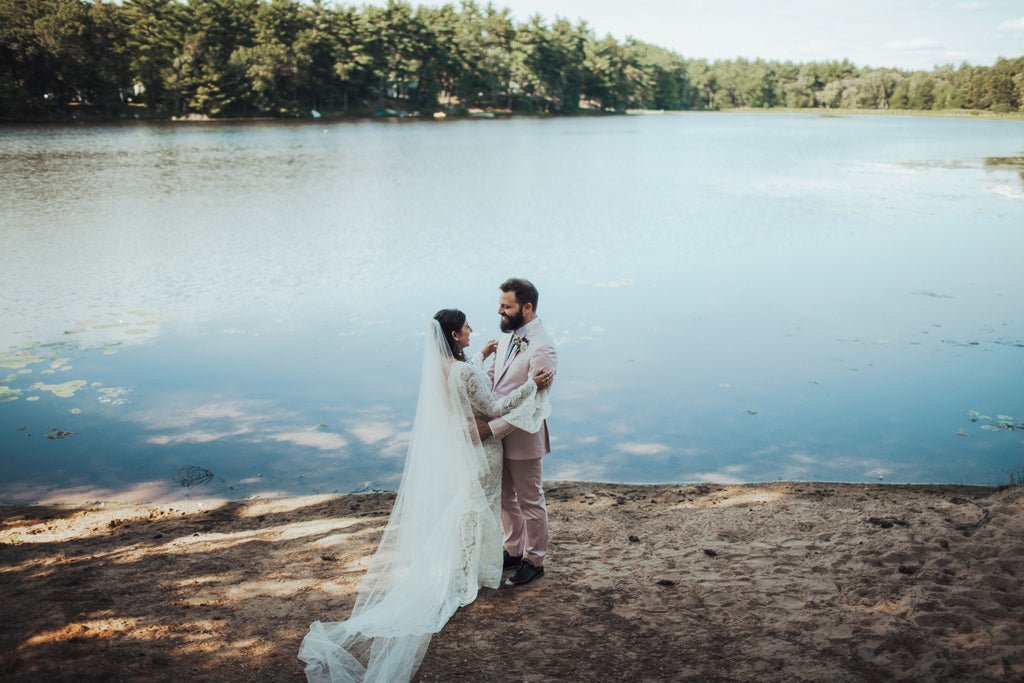 If you grew up going to a Jewish a summer camp, you know how wonderful and formative the experience can be. Those warm summer days boating on the lake, sing-a-longs with friends, playing kickball or soccer in the fields, telling secrets and laughing late into the night with friends you'll probably have for life. 
Becca had this kind of experience as a kid and Cooper grew up spending summers at his grandparent's cabin in northern Wisconsin. When it came time to plan their wedding, this Chicago based couple decided to recreate these joyful summer experiences for a camp-inspired ceremony and reception at Camp Chi at the Perlstein Resort & Conference Center in Lake Delton, Wisconsin. 
Their special day was stunningly photographed by Aneta Wisniewska.
Becca and Cooper wanted their wedding to feel comfortable so that they could relax and have fun with their loved ones. Because their friends and family were coming in from all over the country, they wanted to spend as much time with everyone as possible. 
The couple decided to rent out the entire beautiful property for 3 days, and planned events throughout the weekend, going all out with the "camp" theme by hosting activities like playing kickball during the day and bonfires at night.
We were so excited when the couple chose our "Colors of a Life Together" print ketubah for their unique wedding. This modern geometric design incorporates a variety of beautifully colored stripes in two halves of an oval that come together to create a joyful and perfectly balanced whole.
Becca and Cooper designed their interfaith ceremony to reflect who they are as individuals. Becca is Jewish and Cooper is Catholic but they described the ceremony as "Jew-ish". They incorporated many Jewish traditions as inspiration into their wedding ceremony but tailored everything to make it their own.
Their friends and family were very involved in making the day so special - the best man built their chuppah, a groomsman played music at the welcome dinner, and the bride's sister served as their officiant. Becca's good friend Weronika Bobula, did everyone's hair and makeup was done by Wide-Eyed Bride. 
For the wedding ceremony, Becca wore a beautiful romantic lace gown from a wedding shop in Chicago called Honey Bridal. It was designed by & For Love and matched with a headpiece by Lia Terni. Cooper wore a custom-made blush pink suit designed by Balani. 
They worked with wedding planner Fiorella Neira at Neira Event Group to design all of their gorgeous flowers and manage day-of coordination. They selected pampas grass, eucalyptus, and other greens mixed with dahlias and roses to give their bouquets and arrangements a natural wildflower look.
And what is the best thing to have on a late summer night? Ice cream! They decided to skip the cake and had an ice cream truck from Chocolate Shoppe instead!
Thank you, Becca & Cooper, for sharing your beautiful wedding photos with us! We hope your lives together are filled with love, joy, laughter, family, friends, and summer camp fun!